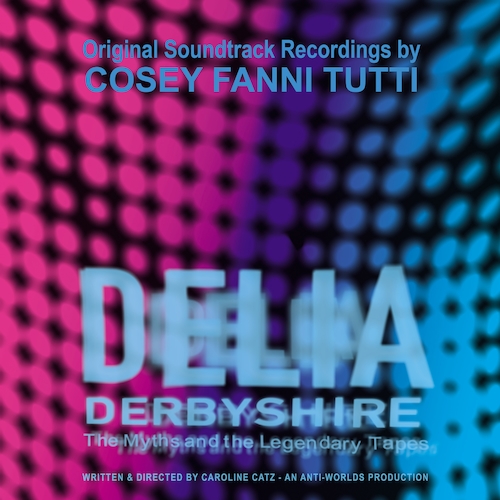 Delia Derbyshire: The Myths and the Legendary Tapes (Original Soundtrack Recordings)
Available Formats
Tracks
Price
Buy
12" Vinyl Album (Ultra Clear Vinyl)
15 tracks

£

23.99

CD Album
18 tracks

£

12.99

Download Album (

MP3

)
18 tracks

£

9.99

Download Album (

WAV

)
18 tracks

£

9.99

Download individual tracks
From £0.99
Description
Cosey Fanni Tutti - Delia Derbyshire: The Myths and the Legendary Tapes (Original Soundtrack Recordings)
Cosey Fanni Tutti has announced details of a new album, Delia Derbyshire: The Myths and the Legendary Tapes, her original soundtrack recordings for Caroline Catz' acclaimed film about Derbyshire. Delia Derbyshire: The Myths and the Legendary Tapes will be available on vinyl, CD and digitally on 16 September 2022 via the artist's own label, Conspiracy International.
In 2018, Cosey Fanni Tutti was commissioned to write the soundtrack to director and actor Caroline Catz's acclaimed, intimate portrayal of the composer, musician and sonic experimentalist, Delia Derbyshire (1937-2001).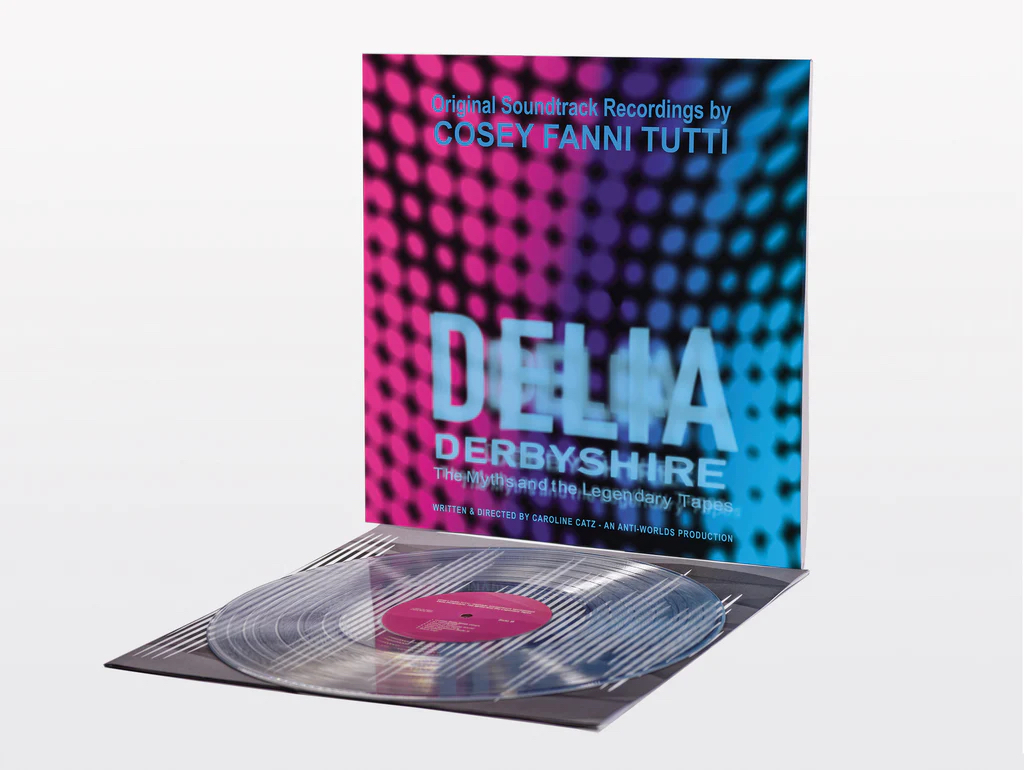 Best known for her groundbreaking work on the 1963 Doctor Who theme tune, Derbyshire was instrumental in giving easy access to and rewiring a nation's attitudes towards electronic music. Working within the often-stifling confines of the BBC Radiophonic Workshop, her experimentalism - which saw her manipulating magnetic tape, found sounds and electronics - is only now being given full credit for the immeasurable impact it has had on the way we hear the world.
The new album includes the audio explorations and experiments that lead Cosey Fanni Tutti to the final soundtrack for Catz' film. From the 4-minute long 'Cornet Lament' to the humorous 'Snuff Chorus' (which references an addiction that Derbyshire had for snuff), the album is a journey through both Delia and Cosey's practise – Fanni Tutti spent time researching Derbyshire's archives (both musical and the more personal ephemera of her life) to create an audio world for Catz's depiction of the artist to inhabit.
Fanni Tutti explains, "The compositions are inspired by my research of the Delia Derbyshire audio archive, Delia's original compositional notes and techniques which in combination with my admiration and love of Delia's work provided a way to integrate her style and approach to music with my own. An alliance of our sensibilities."
The new album follows the release of Cosey Fanni Tutti's new book, RE-SISTERS: The Lives and Recordings of Delia Derbyshire, Margery Kempe and Cosey Fanni Tutti which is due to be published on Faber on 18 August.
The book and the soundtrack recordings are intrinsically linked – Cosey's research into Derbyshire coincided with her discovery of Margery Kempe and while working on the film, she found herself struck by how Derbyshire, Kempe and Fanni Tutti's own life experiences felt intertwined. In the book, for the first time, Cosey Fanni Tutti explains her own processes creating music, an invaluable insight her artistic life.
The music was composed, performed and produced by Cosey Fanni Tutti in Twickenham Studio 3, London and Studio 47 in Norfork, with vocals by Cosey Fanni Tutti and Caroline Catz, alongside the voice of Delia Derbyshire.
Musician, artist and author Cosey Fanni Tutti has continually challenged boundaries and conventions for four decades. As a founding member of the hugely influential avant-garde band Throbbing Gristle, as one half of electronic pioneers Chris and Cosey, and as an artist channelling her experience in pornographic modelling and striptease, her work on the margins has come to reshape the mainstream.
Her first solo album, Time To Tell (1983) was followed by 2019's Tutti and her debut book, Art Sex Music, was published in 2017.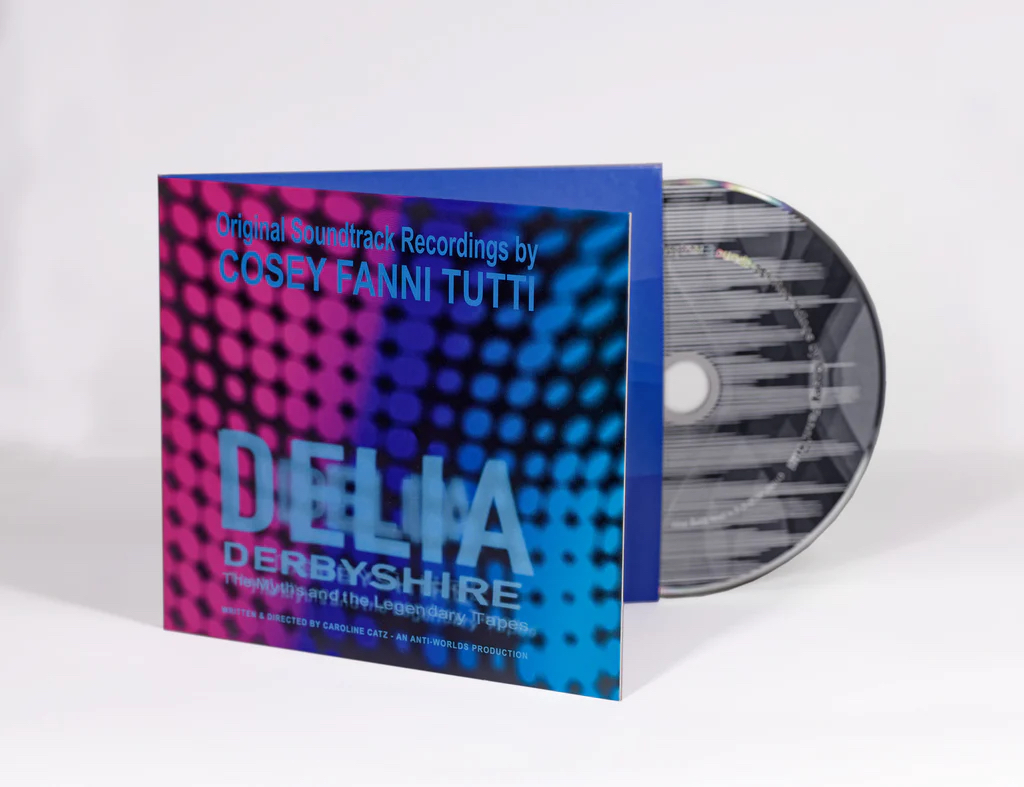 Tracklisting
12" Vinyl Album (Ultra Clear Vinyl) (CTIDELIALP2022)
Cosey Fanni Tutti

- Cornet Lament

Cosey Fanni Tutti

- Four Bebe

Cosey Fanni Tutti

- Sirens

Cosey Fanni Tutti

- Brainwaves & Clogs

Cosey Fanni Tutti

- Delia Tones

Cosey Fanni Tutti

- Animals

Cosey Fanni Tutti

- Psychedelic Projections

Cosey Fanni Tutti

- Reverse Adrenalin

Cosey Fanni Tutti

- Snuff Chorus

Cosey Fanni Tutti

- Corridor

Cosey Fanni Tutti

- Cosmic Static Noise Wasps

Cosey Fanni Tutti

- An Individualist

Cosey Fanni Tutti

- Ceiling of Sickening Sound

Cosey Fanni Tutti

- Dream Dinner Party

Cosey Fanni Tutti

- Guitar (Twickenham Studio 3)
CD Album (CTIDELIACD2022)
Cosey Fanni Tutti

- Cornet Lament

Cosey Fanni Tutti

- Four Bebe

Cosey Fanni Tutti

- Sirens

Cosey Fanni Tutti

- Brainwaves & Clogs

Cosey Fanni Tutti

- Delia Tones

Cosey Fanni Tutti

- Animals

Cosey Fanni Tutti

- Psychedelic Projections

Cosey Fanni Tutti

- Reverse Adrenalin

Cosey Fanni Tutti

- Snuff Chorus

Cosey Fanni Tutti

- Corridor

Cosey Fanni Tutti

- Cosmic Static Noise Wasps

Cosey Fanni Tutti

- An Individualist

Cosey Fanni Tutti

- Ceiling of Sickening Sound

Cosey Fanni Tutti

- Dream Dinner Party

Cosey Fanni Tutti

- Guitar (Twickenham Studio 3)

Cosey Fanni Tutti

- Labyrinthine

Cosey Fanni Tutti

- Samson Pub

Cosey Fanni Tutti

- Tatum Ergo
Download Album (CTIDELIADD2022)